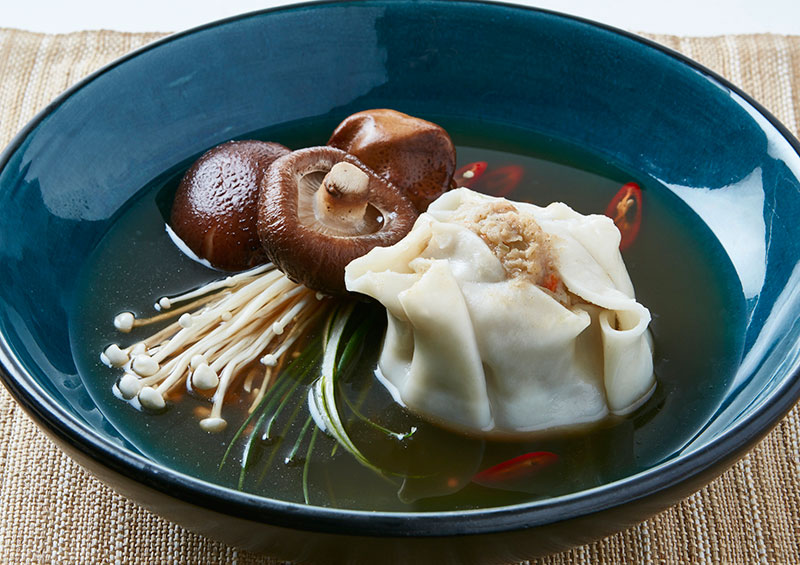 • Serves 6 • Preparation time 10 minutes
Ingredients
6 x  Kensington King Beef & Pork Large Dim Sims
1.5Lt prepared Beef Stock
2 x Spring Onions
1 x small Red Chilli, thinly sliced (optional)
100g Enoki or Shimeji Mushrooms, ends trimmed
100g  small  Shiitake Mushrooms, stems trimmed
2 tbsp of Olive Oil
Salt to taste
Method
 Thaw Dim Sims: Place frozen Dim Sims in a microwave-safe container with 1 teaspoon of water per Dim Sim. Cover and cook on high for approx. 50  seconds per Dim Sim.
 Place the stock in a medium saucepan over medium heat and bring stock to the boil.
 Add the Kensington King Large Dim Sim to the stock and simmer gently until the  Dim Sims are thoroughly heated through, about 10-12 minutes.
 Saute sliced spring onions, and mushrooms for 2-3 minutes add to stock and continue cooking for 1-2 minutes.
Season to taste and add sliced chilli (optional) and serve.
Note* If desired, substitute Beef Stock for Vegetable Stock